What Ian Fleming Did to Make James Bond a Success (Besides Write Terrific Books)
It's not just today's authors who work hard to make their books a success. Consider Ian Fleming.
They were written in the 1950s when the British mail service operated at high efficiency. A letter mailed in the morning would be delivered the same day. The letters are organized chronologically and were written contemporaneous to the publication of the James Bond thrillers, beginning with
Casino Royale
.
Lively, witty, and extremely informative about the inner working of book publishing at the time, the letters reveal Fleming to be a man of charm, lively intellect and wide interests.
He was also a hard-working author concerned with the technical, editorial, and financial details of publishing.
Ian Fleming's Publisher Wasn't Impressed.
James Bond, as we think of the suave spy today, was hardly an instant, overnight success.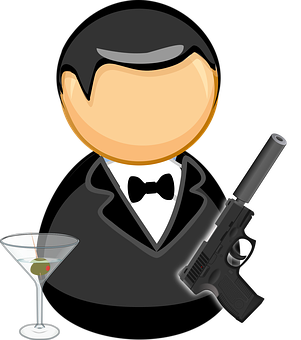 In fact, his publisher was—shall we say—barely lukewarm about
Casino Royale
. He had little interest in thrillers, "believing them to be short-run phenomena that rarely covered their costs. Nor did he think much of their authors, and suspected that Fleming was a dilettante. Remarkably,
Casino Royale
was the only Bond book Fleming's publisher ever read."
He Faced the "Dreadful Prospect" of Getting Married
Fleming's hard work and interest in every aspect of publishing may well have saved James Bond from obscurity.
Fleming was a disciplined writer. Every morning, for three hours, he sat at his desk and typed 2,000 words of a new Bond adventure during January and February. Those were the months he spent in his house, Goldeneye, located on the Caribbean island of Jamaica.
He shored up his discipline by "obstinately closing my mind to self-mockery" and wondering "what will my friends say?" He joked that as "a confirmed bachelor on the eve of marriage, I decided to take my mind off the dreadful prospect by writing a thriller."
A Steely Eye on the Finances.
Fleming's nephew comments that "he liked to joke that he was Cape's hardest working author, and to an extent this was true. He had made a career in journalism, ran a network of foreign correspondents and was, indeed, a publisher himself and a collector of first editions.
There was little Cape [his publisher] could tell him that he didn't know already. 'I enjoyed his enthusiastic interest in the technicalities of production,' wrote Michael Howard with surprise. That soon turned to alarm when "it became clear that Fleming had more in mind than simply delivering a manuscript. He designed the covers, organised reviews, invented sales tactics and cast a steely eye over the finances."
Blurbs, Covers, and Print Orders.
Fleming also wrote blurbs, concerned himself with the details of covers and size of print orders, and suggested ads and promotions, Also, he drummed up reviews, contacted magazine editors about feature stories, and concerned himself with the size of print orders, advertising budgets as well as the ads themselves.
Nor did he overlook the details of his contracts—royalties, foreign editions, option, serial, movies, and tv. He worked closely with cover designers, making suggestions about images, and commenting on title fonts.
Guns, Perfume, and Typos

.
Determined to make his books as good as possible, Fleming was an avid reseacher intent on tracking down the "perfect" kind of gun or the exact perfume a heroine might wear. He explored Harlem's nightlife on a trip to America in December 1952, tracked down information on gold doubloons and Spanish treasure by consulting Spink, London's premier coin dealers. And scenes taking place in Florida were based on his visit to that state at the beginning of 1953.
He welcomed input from his editors, readers, and friends and was constantly working to make the books as good as possible. He even alerted his publisher to typos to correct in future editions.
Advice from Readers and Other Writers.
Fleming paid attention to advice from other writers like Raymond Chandler, Noel Coward and Somerset Maugham.
The novelist Michael Arlen advised him to "write your second book before you see the reviews of the first.
Casino Royale
is good but the reviewers may damn it and take the heart out of you." Heeding Arlen's words, Fleming completed
Live and Let Die
before its predecessor had even been published.
He also carried on a lively correspondence with readers. One reader who was an expert in guns (and holsters) made specific recommendations for Bond's weaponry.
Another who worked in the Yale University library corrected what Fleming referred to as his "Americanese."
In fact, it seemed that about the only thing he didn't do was actually drive the trucks that delivered copies to bookstores.
Always polite and often witty—even when pushing back on the royalty rates offered by his publisher or when replying to a dissatisfied reader's negative comments—he concluded his note to her "with many thanks for the kindly thought behind your letter."
The Sheer, Ridiculous Delight!
And, about that golden typewriter: yes indeed, Ian Fleming did have a real—as well as a metaphorical—golden typewriter. According to his nephew, "Fleming had always longed for success, but failing that would settle for the trappings.
So, in anticipation, he ordered a gold-plated typewriter from New York to congratulate himself on finishing his first novel.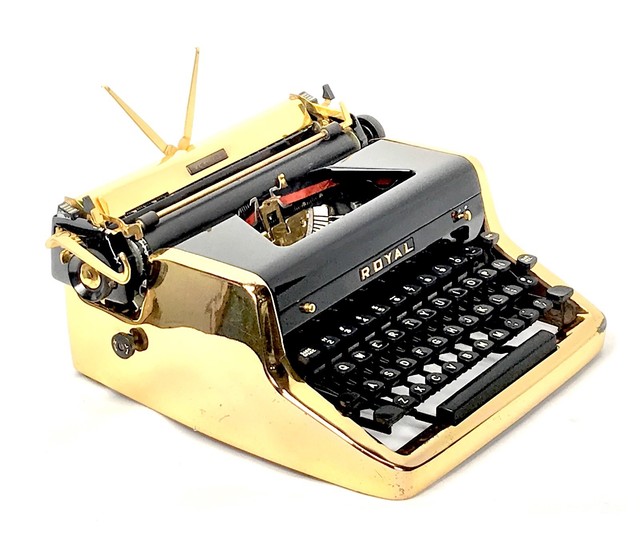 It was a Royal Quiet de Luxe, cost $ 174. It wasn't a custom-made machine—Royal had produced several of them—and Fleming's literary acquaintances considered it the height of vulgarity. Fleming did not care. "It was the sheer, ridiculous delight of the thing. He owned a Golden Typewriter!"
Beyond his Wildest Dreams.
Not just literal gold. But, as it would turn out, golden beyond Fleming's wildest dreams.